Fitbit has always been good for tracking the fitness record. At the same time, Fitbit users face some common problems that can certainly disturb their track record. Before worrying about the common Fitbit problems please read this article till the end.  So that, you can get to know how to fix those common problems.
Read about> What Fitbit model do you have?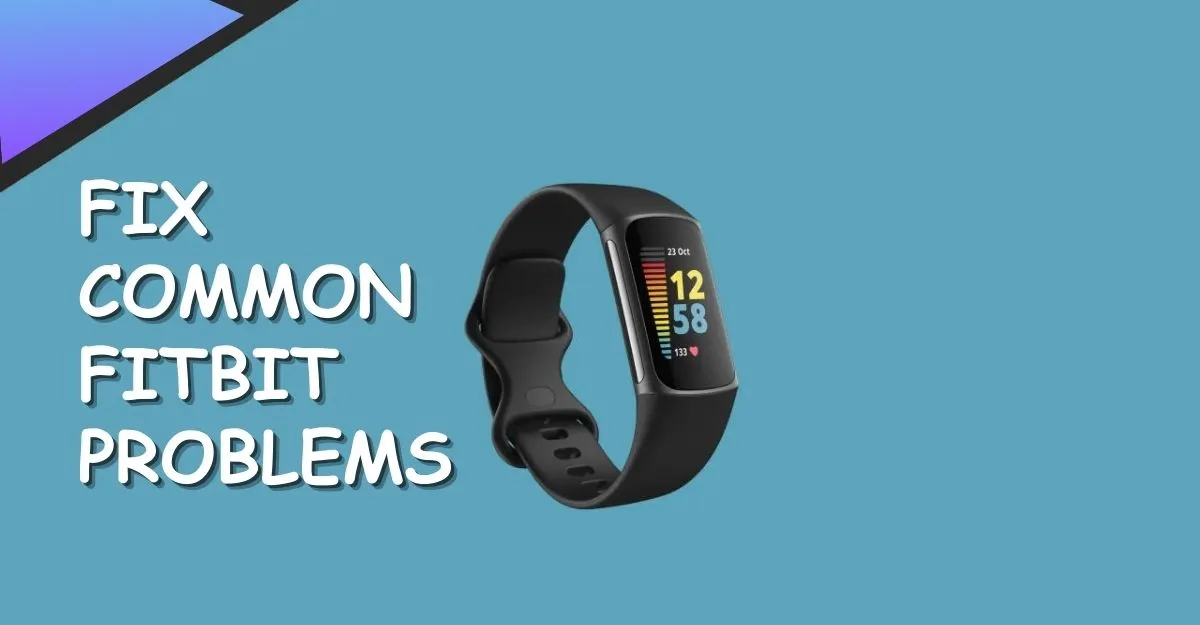 common Fitbit problems and their solutions
1. Fitbit no Syncing
One of the most frequent complaints among Fitbit users is the device's failure to sync with the associated app. This can be frustrating, especially when you're eager to track your progress. Here's how to fix it:
Solution
Ensure your Fitbit and smartphone have Bluetooth turned on.
Force quit the Fitbit app and reopen it.
Restart your Fitbit device.
Reboot your smartphone.
Try syncing from a different mobile device if possible.
2. Inaccurate Heart Rate Readings
Fitbit devices are renowned for their heart rate monitoring capabilities. However, sometimes they may provide inaccurate readings. This is not a common Fitbit issue but if you ever face it try the below steps.
Solution
Ensure your Fitbit is snugly positioned on your wrist, not too tight or loose.
Clean the sensors on the back of the Fitbit to remove any dirt or sweat.
Update your Fitbit's firmware and the connected app.
Reset your Fitbit to factory settings if problems persist.
3. Battery Drains Quickly
Experiencing rapid battery drain on your Fitbit can be exasperating, especially when you're in the middle of a workout. Here's what you can do:
Solution
Disable unnecessary features like notifications and alarms.
Ensure your Fitbit is not constantly searching for a GPS signal.
Reduce screen brightness and timeout settings.
Replace the battery if it's old or damaged.
4. Display Issues
Sometimes, Fitbit displays may malfunction, making it difficult to read information. Let's tackle this problem:
Solution
Clean the screen with a soft, lint-free cloth.
Restart your Fitbit to refresh the display.
Update your device's software to the latest version.
Contact Fitbit support for assistance if the issue persists.
5. Fitbit Won't Charge
A Fitbit that won't charge is of no use. If you're facing this problem, follow these steps:
Solution
Check if you're using the official Fitbit charger.
Clean the charging ports on both the device and the charger.
Try charging from a different power source or USB port.
If nothing works, contact Fitbit customer support.
Charge Your FitBit without a Charger
6. GPS Not Working
A malfunctioning GPS can be troublesome for those who rely on GPS for accurate tracking. Let's get it back on track:
Solution
Make sure your Fitbit has GPS capabilities (not all models do).
Enable location services on your smartphone.
Update your Fitbit's firmware and the app.
Try syncing with a different device to see if the problem persists.
7. Not Tracking Sleep Stats
If your Fitbit is not tracking sleep stats, try the solutions below.
Solutions
Enable Auto Sleep Mode
Adjust Sleep settings
Verify Hear rate
Is Fitbit not Tracking sleep stats? Let's Fix it
8. Strap Wear and Tear
Fitbit bands can wear out over time due to regular use. Here's what to do if you notice wear and tear:
Solution
Replace the worn-out band with an official Fitbit replacement.
Clean your band regularly to prolong its lifespan.
Avoid excessive exposure to water and extreme temperatures.
9. Fitbit Freezes or Crashes
If your Fitbit device freezes or crashes frequently, follow these steps to resolve the issue:
Solution
Restart your Fitbit device.
Check for software updates and install them.
Remove unnecessary apps and watch faces from your Fitbit.
If the problem persists, contact Fitbit support.
FAQs
FAQs (Frequently Asked Questions)
Conclusion
Fitbit devices are incredible tools for monitoring your health and fitness, but like all technology, they can encounter problems. Fortunately, many common Fitbit problems can be resolved with simple steps. I hope after trying the above solutions you can get your Fitbit back on track and continue your fitness journey without interruption.
Emily Doe is an American extra-ordinary girl who loves to research and come up with the technology which is evolving around the world.
She has the ability to capture new trending technologies and write about them. She is presently a Tech writer at Technob.net