Is your laptop running hot? Excessive heat can be a common issue that plagues many laptop users, leading to decreased performance, system instability, and potential hardware damage. In this article, we will explore various methods to fix an overheating laptop and ensure it runs cool and efficiently. So, if you're tired of your laptop resembling a mini sauna, let's understand the possible solutions.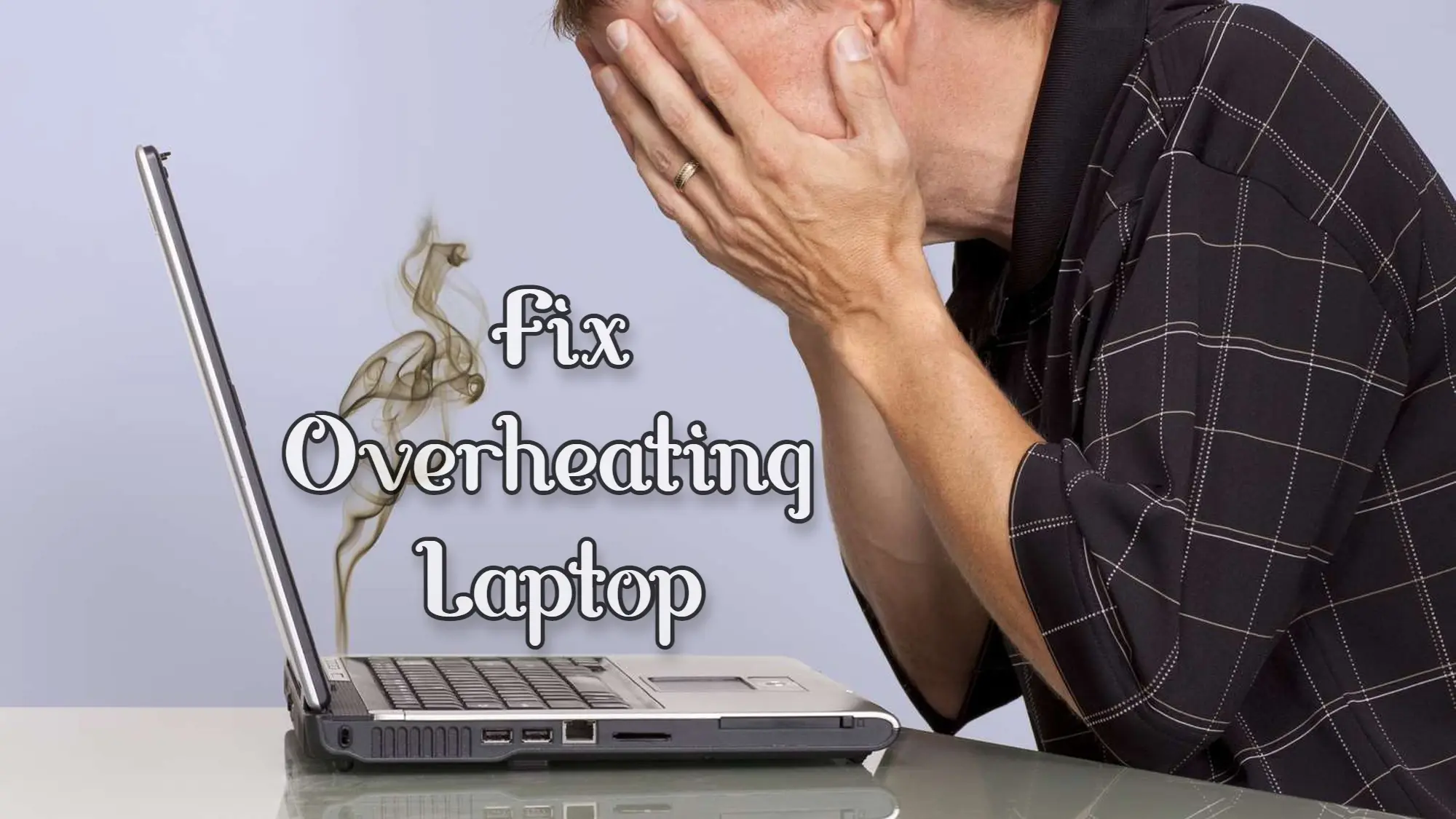 Laptop cooling is an essential aspect of maintaining optimal performance and longevity. When a laptop overheats, it not only causes discomfort for the user but can also lead to more severe consequences, such as permanent damage to internal components. Understanding the common causes of laptop overheating is the first step in resolving the issue effectively.
Read About> How To Fix Screen Flickering Issues On Laptops
Understanding Signs of an Overheating Laptop
Let's identify the signs that indicate your laptop may be overheating. These signs can serve as early warnings, prompting you to take action before more severe problems occur.
Frequent shutdowns or crashes: 
If your laptop shuts down or crashes unexpectedly, overheating could be the culprit. This happens when the internal temperature rises too high, triggering the laptop's built-in safety mechanisms.
Unusual fan noise: 
A laptop's fans are responsible for dissipating heat. If you notice excessive fan noise, it indicates that the fans are working overtime to cool the system.
Hot keyboard or bottom surface: 
When your laptop feels hot to the touch, particularly around the keyboard or the bottom surface, it indicates that excess heat is trapped inside the device.
To Fix an Overheating Laptop Issue
After checking and testing I came up with 06 possible solutions which may help to reduce overheating issues in many laptops. Follow the below main points to avoid meeting this hectic problem again.
Cleaning and Maintenance
Regular cleaning and maintenance play a crucial role in preventing laptop overheating. Dust and debris can accumulate in the laptop's vents and cooling system, obstructing airflow and causing the temperature to rise. Here are some cleaning techniques to combat this issue:
Use a can of compressed air or a soft brush to remove any dust or debris clogging the vents. Ensure the laptop is turned off and unplugged before cleaning.
Disassemble the laptop following the manufacturer's guidelines and carefully clean the internal components, such as the fans and heat sinks, using a soft cloth or brush.
If your laptop has easily accessible vents, you can use compressed air to blow air through the vents to remove any accumulated dust and debris effectively.
Proper Ventilation and Placement
Ensuring proper ventilation and correct placement of your laptop can significantly contribute to reducing overheating. Consider the following tips:
Invest in a laptop cooling pad, which provides additional fans and a raised platform for improved airflow. These pads help dissipate heat and keep your laptop cool during extended use.
Place your laptop on a hard, flat surface and use a laptop stand or elevate the back of the laptop slightly to allow better airflow underneath the device.
Refrain from using your laptop on soft surfaces such as beds, pillows, or blankets. These surfaces can block the vents and obstruct the airflow, leading to overheating.
Optimizing Power Settings
Adjusting your laptop's power settings can contribute to managing heat generation and reducing strain on the system. Consider the following power optimization techniques:
Navigate to the power settings in your operating system and choose a power plan that balances performance and energy efficiency. Opting for a power-saving mode can reduce the strain on your laptop's components.
Identify and close any unnecessary background processes or applications that consume excessive system resources, leading to increased heat generation.
Monitor and limit resource-intensive tasks that strain your laptop's CPU. Close any unused applications and avoid running multiple demanding processes simultaneously.
Updating Device Drivers
Outdated or incompatible device drivers can contribute to overheating issues. Keeping your drivers up to date is essential for optimal performance and improved heat management. Consider the following steps:
Regularly update your laptop's graphics drivers, chipset drivers, and other relevant drivers. Newer versions often include bug fixes and performance enhancements that can help mitigate overheating problems.
Visit the manufacturer's website or use automatic driver update tools to download and install the latest graphics and chipset drivers specifically designed for your laptop model.
Simplify the driver update process by utilizing automatic driver update tools. These tools scan your system, identify outdated drivers, and download the latest versions with just a few clicks.
Monitoring temperature levels
Monitoring your laptop's temperature levels can provide valuable insights into its performance and potential overheating. Here's how you can effectively monitor and manage temperature levels:
Utilize temperature monitoring software to keep an eye on your laptop's internal temperature. These tools provide real-time temperature readings, allowing you to detect any significant spikes.
Set temperature thresholds within the monitoring software to receive alerts when your laptop reaches or exceeds a certain temperature. This way, you can take immediate action to prevent overheating.
If your laptop consistently operates at high temperatures, take necessary actions such as cleaning the vents, optimizing power settings, or considering hardware upgrades.
Hardware Upgrades
In some cases, hardware upgrades may be necessary to effectively address overheating issues. Consider the following options:
Over time, thermal paste, which helps conduct heat from the CPU to the heat sink, can degrade. Replacing the thermal paste with a high-quality thermal compound can improve heat dissipation.
Some laptops allow for aftermarket cooling system upgrades, such as more efficient fans or heat pipes. Consult your laptop's manufacturer or a professional technician to explore suitable cooling system upgrades for your specific model.
Depending on your laptop's design, you may be able to add supplementary cooling fans or heat sinks to enhance heat dissipation. These additional cooling components can help improve airflow and reduce temperatures.
FAQs (Frequently Asked Questions)
Final Thoughts
I hope this article helps you a lot in cooling down your overheating laptop issue. implementing the right strategies can help you fix the issue effectively. By cleaning and maintaining your laptop, ensuring proper ventilation and placement, optimizing power settings, updating device drivers, monitoring temperature levels, and considering hardware upgrades. you can keep your laptop cool and running smoothly for extended periods.
Remember, a well-cooled laptop not only enhances performance but also prolongs the lifespan of your device. So, take proactive measures to address overheating issues and enjoy a comfortable computing experience.
Emily Doe is an American extra-ordinary girl who loves to research and come up with the technology which is evolving around the world.
She has the ability to capture new trending technologies and write about them. She is presently a Tech writer at Technob.net