If you're a proud Fitbit owner, you know how important it is to track your sleep stats. Monitoring your sleep patterns can provide valuable insights into your overall health and well-being. However, it can be frustrating when your Fitbit doesn't track your sleep properly. But fear not! In this blog post, I am going to explore 10 ways to fix the issue of Fitbit not tracking your sleep stats.
Given methods are compatible with Fitbit models like Versa, Charge, Inspire, or any other Fitbit models.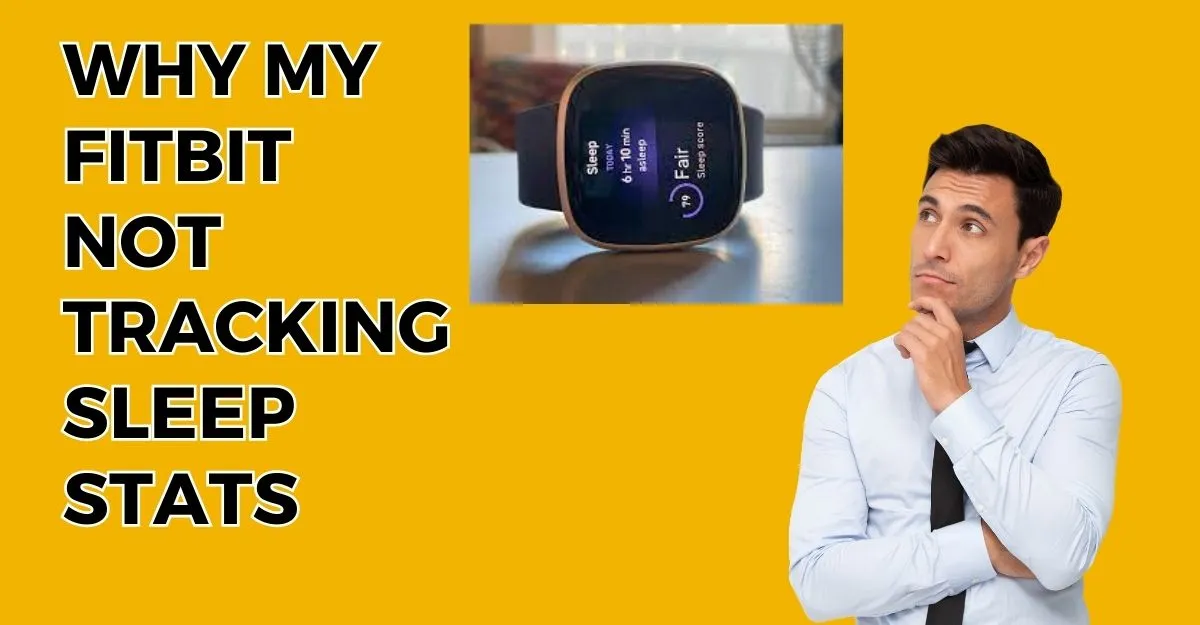 Fixing FitBit not Tracking Sleep stats
1. Enable Auto Sleep Mode
Fitbit's latest models automatically track sleep at specified intervals. When the schedule is turned off, your Fitbit device cannot track sleep.
Go to the Fitbit device settings
Tap SLEEP MODE once you have selected QUIET MODES
Set the Start and End times for the SCHEDULE feature.
According to the schedule you select, your Fitbit tracker will automatically record your sleep patterns and stages.
You can also specify a sleep record schedule using the official Fitbit app. You can do this by going to the Fitbit app > Today tab > Profile icon > Activity & Wellness > Sleep, and then setting the Bedtime and Wakeup times.
To track your sleeping habits, you can set a sleep goal.
2. Restart your Fitbit device 
Sometimes, a simple restart is all it takes to resolve the problem. Power off your Fitbit device and then power it back on. This can help refresh the system and clear any temporary glitches that may be affecting the sleep-tracking feature.
3. Check for software updates
Fitbit regularly releases software updates to enhance the performance of their devices. Ensure that your Fitbit is running on the latest software version. To do this, go to the Fitbit app on your smartphone, navigate to the device settings, and check for any available updates.
4. Adjust your Fitbit device placement
Incorrect placement of your Fitbit device on your wrist can affect its ability to accurately track your sleep. Make sure that your Fitbit is securely fastened and positioned snugly on your wrist. Avoid wearing it too tight or too loose, as this can impact its tracking capabilities.
5. Verify heart rate tracking 
Fitbit devices use heart rate tracking to provide detailed sleep data. Check if the heart rate sensor on your Fitbit is functioning properly. Clean the sensor and ensure it is in contact with your skin during sleep for accurate readings.
6. Adjust your sleep settings
Fitbit allows you to customize your sleep settings according to your preferences. Make sure that your sleep goals, bedtime and wake-up reminders, and other relevant settings are appropriately configured in the Fitbit app. Incorrect settings can cause sleep-tracking issues.
7. Ensure a stable Bluetooth connection
Fitbit devices sync with your smartphone via Bluetooth. Ensure that your Fitbit and smartphone are in close proximity and that Bluetooth is enabled on both devices. A stable connection is crucial for accurate sleep tracking.
8. Check battery life
Low battery levels can affect the performance of your Fitbit device, including sleep tracking. Ensure that your Fitbit is adequately charged to avoid any tracking issues. Charge your device overnight or as recommended by the manufacturer.
Unluckily, If you are not able to find the charger learn how to charge Fitbit without a charger.
9. Reset your Fitbit device
If all else fails, you may need to reset your Fitbit device. This should be your last resort, as it will erase all data stored on the device. Refer to the Fitbit website or user manual for instructions on how to reset your specific model.
Check what Fitbit Model you have and start resetting accordingly.
10. Contact Fitbit customer support
If you've tried all the above steps and your Fitbit still isn't tracking your sleep stats, it may be time to reach out to Fitbit's customer support. They have a dedicated team of experts who can assist you further and provide specific troubleshooting steps based on your device model.
FAQs (Frequently Asked Questions)
Conclusion
Experiencing issues with your Fitbit not tracking sleep stats can be frustrating. However, by following these 10 simple steps, you can troubleshoot and resolve the problem. Remember to restart your device, check for updates, adjust placement, enable sleep mode, verify heart rate tracking, adjust sleep settings, ensure a stable Bluetooth connection, check battery life, reset if necessary, and seek support if needed.
Let us know which method works for you. Thanks for reading and staying with Technob
Emily Doe is an American extra-ordinary girl who loves to research and come up with the technology which is evolving around the world.
She has the ability to capture new trending technologies and write about them. She is presently a Tech writer at Technob.net