The world of mobile computing has witnessed remarkable advancements in recent years. With the growing popularity of laptops, tablets, and hybrid devices, the need for efficient and portable accessories has also surged. One such accessory that has gained significant attention is the Surface Mobile Mouse. 
In this article, I'll explore the features, benefits, and overall value of the Mobile Mouse, highlighting why it is a must-have companion for individuals seeking convenience and style in their on-the-go productivity.
check out other Microsoft Surface Accessories!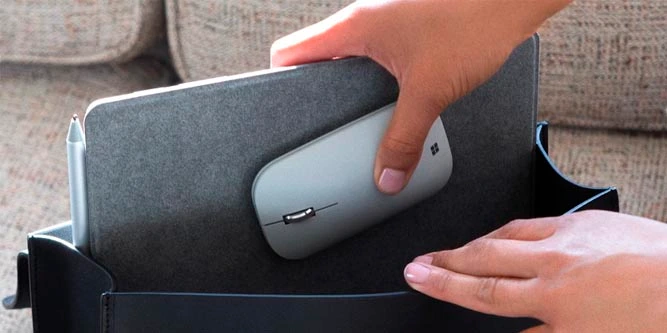 Introducing Mouse Mobile
As technology continues to evolve, the demand for sleek and compact computing devices has skyrocketed. In response, accessory manufacturers have strived to create innovative solutions that enhance the overall user experience. The Mouse Mobile is a prime example of this evolution, combining functionality with style to cater to the needs of modern professionals, students, and digital nomads.
Overview of Surface Mobile Mouse
The Surface Mobile Mouse is a wireless peripheral designed specifically for mobile computing devices such as laptops, tablets, and 2-in-1s. Created by Microsoft, it seamlessly integrates with the Surface ecosystem while offering compatibility with other Windows and macOS devices. Its sleek and minimalist design, coupled with advanced features, makes it an ideal choice for those who value both aesthetics and functionality.
Seamless Connectivity and Easy Setup
Setting up the Mobile Mouse is a breeze. It utilizes Bluetooth technology, allowing for seamless connectivity with compatible devices. Simply turn on the mouse, activate the Bluetooth pairing on your device, and establish a connection. The mouse is ready to use within seconds, eliminating the hassle of wires or dongles.
The Power of the Mobile Mouse
When it comes to cursor control, the Mobile Mouse delivers exceptional precision and responsiveness. Its high-definition optical tracking ensures smooth and accurate tracking on various surfaces, enabling precise control over your digital workspace. Whether you're editing documents, creating artwork, or navigating through web pages, it ensures a seamless and fluid experience.
Customizable Buttons and Gestures 
To further enhance productivity, the Mobile Mouse offers customizable buttons and gestures. With the help of the Surface app, users can assign specific functions to the mouse buttons, such as opening applications, executing shortcuts, or switching between tasks. Additionally, the mouse supports intuitive gestures, allowing users to perform actions such as scrolling, zooming, or navigating through documents with a simple swipe or tap. These customizable features empower users to tailor the mouse to their workflow, boosting efficiency and convenience.
Compact and Portable
The Mobile Mouse is designed with portability in mind. Its compact and slim profile makes it easy to slip into a bag or pocket, ensuring that you can carry it wherever you go. Whether you're traveling for work, studying at a coffee shop, or simply working from different locations, this mouse is a perfect companion for your on-the-go lifestyle. Its lightweight construction adds to its convenience, making it effortless to use and transport.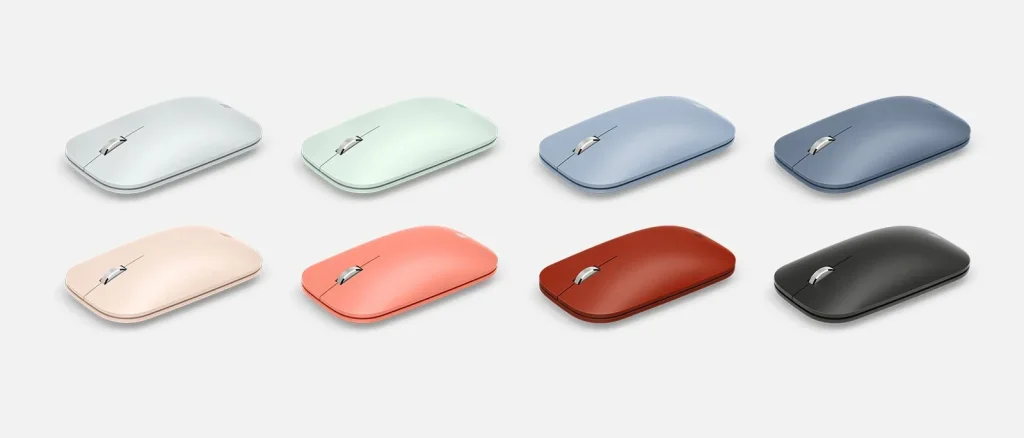 Battery Life and Charging Options
No one wants to be constantly worrying about battery life. The Surface Mobile Mouse offers impressive battery efficiency, providing up to 12 months of usage on a single pair of AAA batteries. This extended battery life ensures that you can work or play without interruptions. 
Moreover, the mouse features a convenient battery indicator, giving you a heads-up when it's time to replace the batteries. With its energy-efficient design, this allows you to focus on your tasks without the need for frequent charging.
Compatibility with Windows and macOS
The Surface Mouse is not limited to Microsoft's Surface devices; it offers broad compatibility with both Windows and macOS platforms. Whether you're using a Surface laptop, a MacBook, or any other compatible device, you can seamlessly connect and enjoy the benefits of this mouse. This versatility makes it an excellent choice for users who work across different operating systems or have multiple devices.
Is the Surface Mobile Mouse Worth It?
With all its features and capabilities, the mouse mobile provides excellent value for its price. While it may be slightly more expensive than generic wireless mice, its build quality, performance, and compatibility with the Surface ecosystem justify the investment. 
When considering the long-term benefits and enhanced productivity, the mobile mouse proves to be a worthwhile purchase for individuals seeking a reliable and stylish companion for their mobile computing needs.
Our Overall Review
4.7
Why we like it?
Customer Reviews and Ratings
Customer feedback is a vital aspect of any purchasing decision. The Surface Mobile Mouse has garnered positive reviews from users worldwide. There are many users who praise the ease of use, precision tracking, and seamless connectivity of this product. It is also praised for its sleek appearance and customization options. 
There has been an expressed desire by some users for additional color options that they can customize to suit their own personal style. As a whole, the Surface Mouse has received positive reviews and is considered a great addition to mobile computing setups by most customers.
Conclusion
The Surface Mobile Mouse is a reliable, feature-rich, and stylish accessory that enhances the mobile computing experience. Designed to be both professional and user-friendly, it features precision tracking, customizable buttons, and seamless connectivity. Its compact and portable nature makes it an ideal companion for individuals on the move. 
While it may come at a slightly higher price point, the Surface Mobile mice offer great value for their functionality and compatibility with Windows and macOS devices. Elevate your productivity and enjoy the convenience and style that the Surface Mobile mice bring to your mobile computing setup.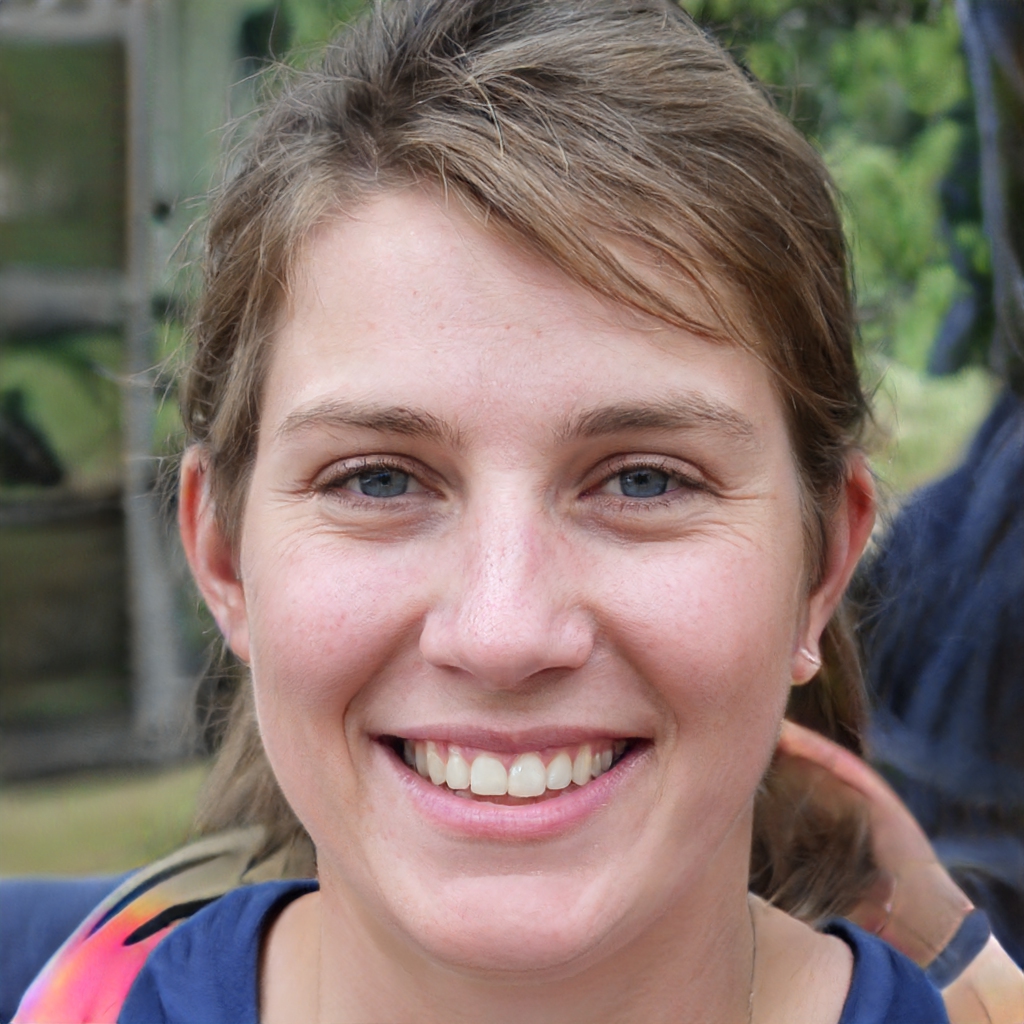 Mia Darren is a well-known name in the world of technology journalism, serving as the co-founder of the popular website Technob. With a passion for all things tech-related, Mia has been writing about the latest gadgets, software, and digital trends for over a decade.
Her articles are widely recognized for their insightful analysis, engaging writing style, and commitment to providing readers with accurate, up-to-date information. Mia's expertise in the tech field has earned her a reputation as one of the industry's most respected voices, with many turning to her for guidance and advice on a wide range of topics.
Her dedication to the field and her commitment to helping others understand the complexities of modern technology have made her a beloved figure among her colleagues and fans alike.
Whether she's writing about the latest smartphone release or offering tips on how to stay safe online, Mia's work is always informative, engaging, and accessible. Her contributions to the world of tech journalism have helped shape the way we think about and interact with technology, and her influence is sure to be felt for years to come.