Working and typing for a long time enhance the chances of Strain Injuries. But Microsoft has found the solution already. A cutting-edge peripheral designed by Microsoft to enhance the quality of your keyboard experience, the Surface Ergonomic Keyboard is the perfect addition to your Surface laptop. 
There are a variety of features included with this keyboard to help meet the needs of professionals and individuals who spend extended periods of time working on their computers, as it is designed with comfort and productivity in mind.
check out other Microsoft Surface Accessories!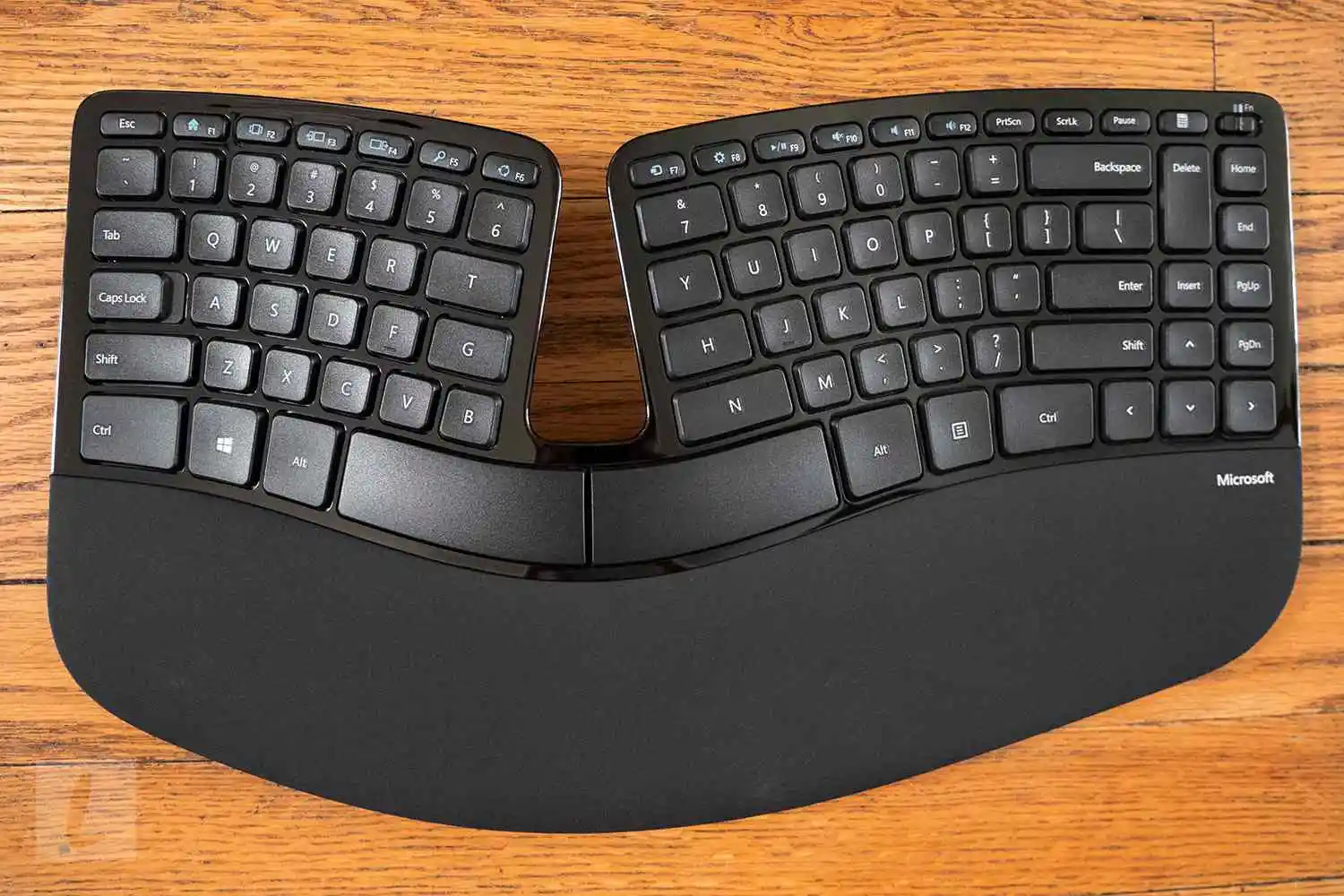 Design and Ergonomics
The Surface Keyboard boasts a sleek and modern design that complements any workspace. It's curved layout and split keyset promote a more natural hand and wrist posture, reducing the risk of strain and discomfort. The adjustable palm rest provides additional support, ensuring optimal positioning and minimizing fatigue during long typing sessions.
Key Features
Split keyset and curved design for improved ergonomics.
Alcantara-covered palm rest for added comfort and durability.
Scissor mechanism and optimized key travel for precise and quiet typing.
Dedicated function keys and media controls for convenient accessibility.
Bluetooth and wired connectivity options for flexibility.
The Benefits of Using a Surface Ergonomic Keyboard
Using an Ergonomic Keyboard offers numerous advantages that can positively impact your overall well-being and productivity. Let's explore some of the key benefits:
Improved Ergonomics
The ergonomic design of the Surface Keyboard reduces the risk of repetitive strain injuries (RSIs) and other musculoskeletal disorders. By promoting a more natural hand and wrist alignment, it helps alleviate the strain on your muscles and joints, allowing for a healthier and more comfortable typing experience.
Increased Comfort
With its split keyboard layout and adjustable palm rest, the Surface Keyboard prioritizes your comfort. By reducing the strain on your wrists and providing adequate support, it minimizes discomfort and fatigue, even during extended typing sessions. Say goodbye to sore wrists and hello to a more enjoyable work experience.
Enhanced Productivity
Comfort and productivity go hand in hand. When you're working in a comfortable environment, you can focus better and maintain your concentration for longer periods. Ergonomic Keyboard's sleek design allows you to type with ease, speeding up your workflow and minimizing errors. Experience a boost in productivity like never before.
Stylish and Durable
Aside from its ergonomic prowess, the Surface Keyboard also exudes style and durability. Its sleek and minimalist design adds a touch of elegance to your workspace. Crafted with high-quality materials, this keyboard is built to withstand daily use and is resistant to wear and tear. Invest in a keyboard that not only prioritizes comfort but also complements your aesthetic preferences.
Wireless Freedom
Say goodbye to tangled cables and embrace the freedom of wireless connectivity. This Keyboard offers a wireless option, allowing you to declutter your workspace and enjoy a clean and organized setup. Experience the convenience of a wireless connection without compromising on performance.
Performance and Typing Experience
This Keyboard delivers an exceptional typing experience. The scissor mechanism beneath each key provides responsive feedback and smooth keypresses, making typing effortless and enjoyable. The optimized key travel strikes a perfect balance, ensuring accuracy without requiring excessive force.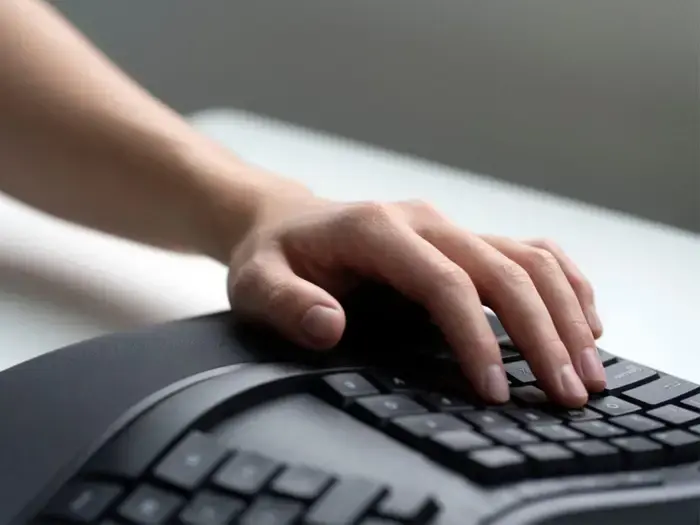 Connectivity Options
The Keyboard offers versatile connectivity options to suit different preferences and setups. You can connect the keyboard to your computer using Bluetooth technology, providing a seamless wireless experience. Additionally, if you prefer a wired connection, a USB cable is included for a reliable and low-latency connection.
Software and Customization
To further enhance the user experience, Microsoft provides software that allows you to customize the keyboard's settings according to your preferences. You can remap keys, adjust key backlighting, and assign shortcuts, among other customization options. This level of personalization ensures that the Keyboard adapts to your unique needs and workflow.
Pros:
Ergonomic design promotes a comfortable and natural typing posture.
Split keyset and curved layout reduce strain on wrists and hands.
The scissor mechanism provides a responsive and quiet typing experience.
Versatile connectivity options with Bluetooth and wired connection.
Long battery life for extended usage.
Customization options through dedicated software.
Cons:
Primarily designed for Microsoft Surface devices.
Higher price compared to standard keyboards.
Alcantara covering on palm rest may require extra care to maintain.
Our Overall Review
4.4
Why we like it?
FAQs (Frequently Asked Questions)
The Surface Ergonomic Keyboard offers a compelling solution for individuals seeking an ergonomic and efficient typing experience. With its sleek design, split keyset, and adjustable palm rest, this keyboard prioritizes user comfort and reduces the risk of repetitive strain injuries. 
The scissor mechanism ensures precise and quiet typing, while the versatile connectivity options and compatibility with various devices make it a versatile choice for professionals and enthusiasts alike. Although it comes at a higher price point compared to standard keyboards, its unique features and benefits make it a worthwhile investment for those who prioritize their well-being and productivity.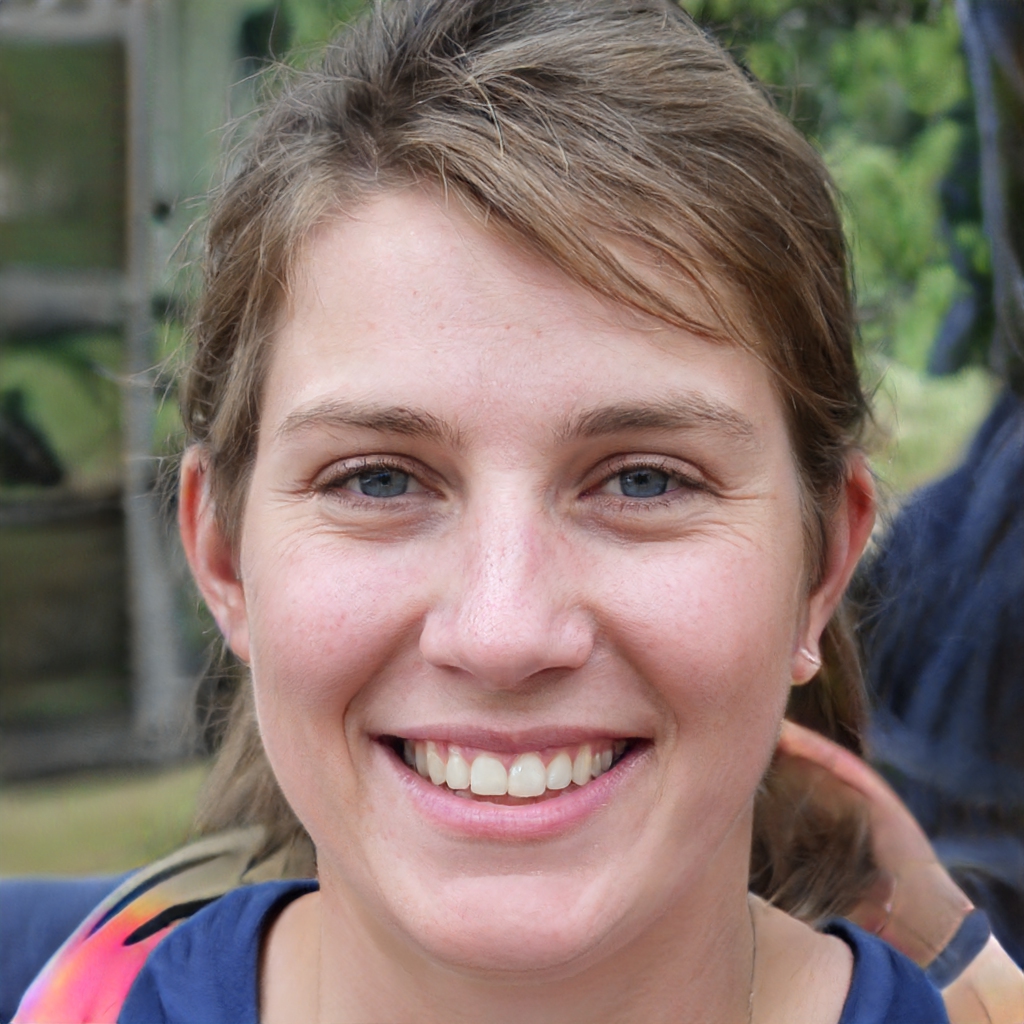 Mia Darren is a well-known name in the world of technology journalism, serving as the co-founder of the popular website Technob. With a passion for all things tech-related, Mia has been writing about the latest gadgets, software, and digital trends for over a decade.
Her articles are widely recognized for their insightful analysis, engaging writing style, and commitment to providing readers with accurate, up-to-date information. Mia's expertise in the tech field has earned her a reputation as one of the industry's most respected voices, with many turning to her for guidance and advice on a wide range of topics.
Her dedication to the field and her commitment to helping others understand the complexities of modern technology have made her a beloved figure among her colleagues and fans alike.
Whether she's writing about the latest smartphone release or offering tips on how to stay safe online, Mia's work is always informative, engaging, and accessible. Her contributions to the world of tech journalism have helped shape the way we think about and interact with technology, and her influence is sure to be felt for years to come.