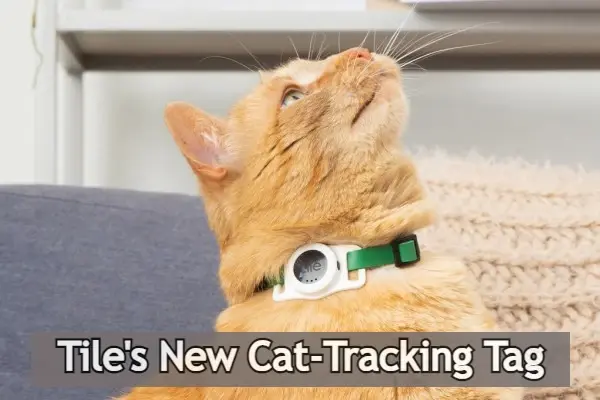 In today's fast-paced world, our beloved pets often find themselves in unexpected situations. For cat owners, the fear of losing their furry friends or not knowing their whereabouts can be a constant source of anxiety. Fortunately, Tile came up with Tile New Cat-Tracking Tag Feature that brings peace of mind to cat owners. With an impressive three-year battery life, real-time tracking, and other advanced features, this innovative solution ensures that cats can be easily located whenever they wander off.
Cats are known for their curious nature and adventurous spirit, which often leads them to explore their surroundings. While this behavior is natural, it can also be a cause for concern when they go missing or find themselves in unfamiliar territory. In response to these worries, Tile has introduced a cat-tracking tag that caters specifically to feline companions, providing an effective way to keep tabs on their location.
Tile new cat-tracking tag Feature
Tile's cat-tracking tag is a game-changer in the world of pet tracking. Designed with both durability and functionality in mind, this small and lightweight device can be easily attached to a cat's collar. Equipped with cutting-edge technology, it ensures that cat owners can always stay connected to their pets, no matter where they are.
The importance of cat tracking
Keeping track of your cat's whereabouts is crucial for several reasons. Firstly, it provides peace of mind for cat owners, knowing that their furry friends can be easily located if they wander off. Additionally, quick and efficient location tracking is essential in case a cat gets lost or trapped in an unfamiliar environment. Lastly, a cat-tracking tag can serve as a deterrent against cat theft, as it increases the chances of locating a stolen cat.
Read About> Airlines Banned Apple's Airtag
Features Of Tile New Cat-Tracking Tag
Long battery life
One of the standout features of Tile's cat-tracking tag is its impressive three-year battery life. This extended battery longevity ensures that cat owners won't have to worry about constantly recharging or replacing batteries, providing a hassle-free experience.
Real-time tracking
With real-time tracking capabilities, the cat-tracking tag enables cat owners to monitor their pet's location with pinpoint accuracy. By using the accompanying Tile app, they can easily track their cat's movements on a smartphone or tablet, ensuring that they are always aware of their furry friend's whereabouts.
Geofencing capabilities
Tile's cat-tracking tag also offers geofencing capabilities. Cat owners can set up virtual boundaries or safe zones for their cats within the Tile app. If the cat ventures outside of the designated area, the app will send an immediate notification, alerting the owner to their pet's movements.
Loud ringtone
In situations where the cat is hiding nearby or indoors, Tile's cat-tracking tag comes with a loud ringtone feature. With just a tap on the app, the tag emits a distinctive sound that can help locate the cat, even in the most unlikely hiding spots.
Crowd GPS
Tile's cat-tracking tag utilizes a unique feature called Crowd GPS. This means that if a cat goes missing, other Tile users in the vicinity can help in the search. When a Tile user comes within range of the lost cat, their app will anonymously update the cat's location, providing valuable information to the owner.
How Tile New Cat-Tracking Tag works?
Tile's cat-tracking tag utilizes a combination of Bluetooth technology and the Tile app. The tag connects to the owner's smartphone or tablet via Bluetooth, allowing real-time tracking of the cat's location. The app displays the cat's location on a map, enabling the owner to see their pet's movements and take appropriate action if necessary.
Benefits Of Using Tile's New Cat-Tracking Tag
Peace of mind for cat owners
The primary benefit of using Tile's cat-tracking tag is the peace of mind it provides to cat owners. Knowing that they can quickly locate their cat in case of an unexpected disappearance or outdoor adventure brings immense relief and reduces anxiety.
Quick and easy locating of lost cats
When a cat goes missing, time is of the essence. Tile's cat-tracking tag simplifies the search process by providing real-time updates on the cat's location. This ensures that owners can quickly locate and bring their beloved feline back home, minimizing stress and worry.
Prevention of cat theft
Unfortunately, cat theft is a concern for many pet owners. The presence of a cat-tracking tag acts as a deterrent, as it significantly increases the chances of recovering a stolen cat. The ability to track the cat's location in real time provides valuable information to authorities and aids in the swift return of the stolen pet.
Comparison With Other Cat-Tracking Options
While there are various cat-tracking options available, Tile's cat-tracking tag stands out due to its unique features and functionality. Let's compare it to other popular options:
GPS collars
GPS collars offer tracking capabilities similar to Tile's cat-tracking tag. However, many GPS collars have limited battery life, requiring frequent charging or battery replacements. Tile's cat-tracking tag, with its three-year battery life, offers a significant advantage in terms of convenience and longevity.
Microchips
Microchipping is a common method of identifying pets, but it does not provide real-time tracking. Microchips require a veterinarian or shelter to scan the chip to retrieve the owner's information. Tile's cat-tracking tag, on the other hand, allows owners to track their cats' location instantly using their smartphones.
Bluetooth trackers
Bluetooth trackers are another option for pet tracking. However, they often have a limited range and rely on nearby Bluetooth connections to update location information. Tile's cat-tracking tag, with its Crowd GPS feature, utilizes a wider network of Tile users to provide accurate and up-to-date location data, increasing the chances of finding a lost cat.
How to set up and use Tile's cat-tracking tag
Setting up and using Tile's cat-tracking tag is a straightforward process:
Download the Tile app: Begin by downloading the Tile app on your smartphone or tablet from the App Store or Google Play Store.
Attach the tag to your cat's collar: Securely attach the Tile cat-tracking tag to your cat's collar using the provided attachment mechanism. Make sure it is firmly attached to ensure it stays in place during your cat's daily activities.
Pair the tag with the app: Open the Tile app and follow the on-screen instructions to pair the cat-tracking tag with your smartphone or tablet. This will establish a connection between the tag and the app.
Customize settings: Once the tag is paired, you can customize various settings within the Tile app. Set up geofencing boundaries, adjust notification preferences, and personalize the ringtone to suit your preferences.
Start tracking: With the tag securely attached and the app settings configured, you are ready to start tracking your cat. Open the app and view the map to see your cat's location in real-time. Use the app's features to track, locate, and monitor your cat's movements whenever needed.
User Testimonials And Reviews
Tile's cat-tracking tag has received positive feedback from cat owners who have used it to keep their feline companions safe. Here are a few testimonials from satisfied customers:
Pricing and availability
Tile's cat-tracking tag is available for purchase on the official Tile website and through authorized retailers. The price for the cat-tracking tag varies depending on the specific model and any ongoing promotions. Visit the Tile website or contact a retailer near you for detailed pricing and availability information.
FAQs (Frequently Asked Questions)
Conclusion
Tile's new cat-tracking tag with its three-year battery life and advanced features offers a reliable solution for keeping tabs on your adventurous feline companion. With real-time tracking, geofencing capabilities, and the ability to locate your cat with a simple tap on your smartphone, this innovative device provides peace of mind to cat owners worldwide. Don't let the fear of losing your cat hold you back—embrace technology and ensure the safety and well-being of your furry friend with Tile's cat-tracking tag.
Emily Doe is an American extra-ordinary girl who loves to research and come up with the technology which is evolving around the world.
She has the ability to capture new trending technologies and write about them. She is presently a Tech writer at Technob.net