I know how hard it is to choose between the Surface Pro Vs MacBook Pro. Therefore, in this article, I have gathered all the aspects so that you can choose the suitable machine for your needs.
After reading this article you can make your decision more quickly rather than just thinking. I have focused on and enlisted their design, features, and Performance individually so that you can decide which to buy in 2023.
Based on our review, These machines are poles apart; there might be competition between them however, Technob shall inform you which one is the optimum laptop. 
For comparison sake, We have chosen the latest Microsoft Surface Pro 9 and Macbook Pro M2 models.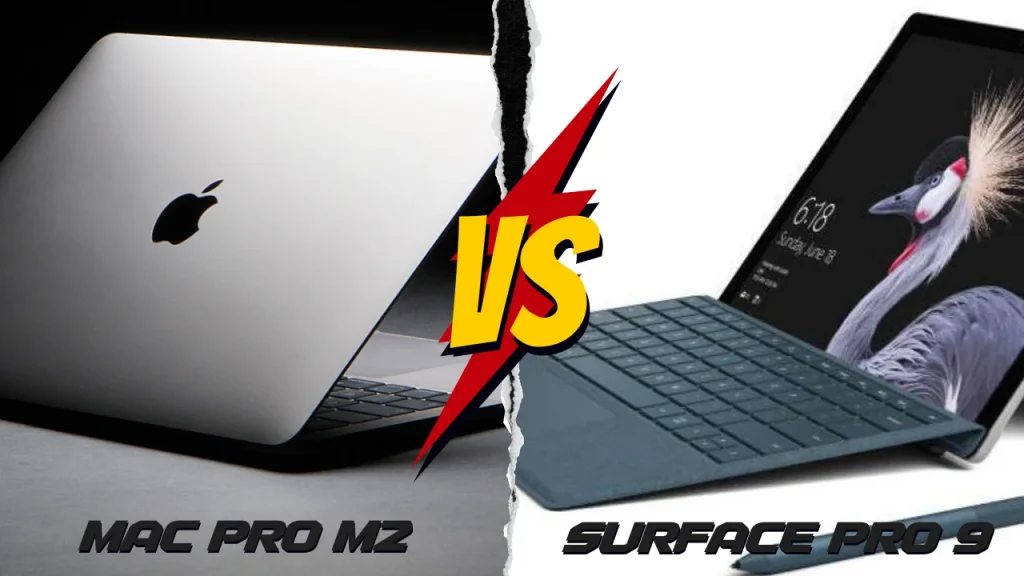 Surface Pro Vs MacBook Pro: Body, Colors, and Display
Surface Pro dominating the world since its launch because of its stylish shape and touchpad. Portability makes it different from others. You can use your Surface Pro as a Tablet too. The Microsoft logo on the backside of the laptop always attracts the attention of the viewers. 
The latest Surface Pro 9 model has been released measuring its body as, 11.3 x 8.2 x 0.37 inches (287mm x 208mm x 9.3mm) and weighing 1.94 pounds or 880 grams same size as they had in Surface Pro 8. Microsoft used an Aluminium body with a kickstand on the back of the laptop and a mechanical keyboard shape making it more prominent.
Surface Pro 9 models came in 4 colors Platinum, Graphite, Sapphire, and Forest respectively.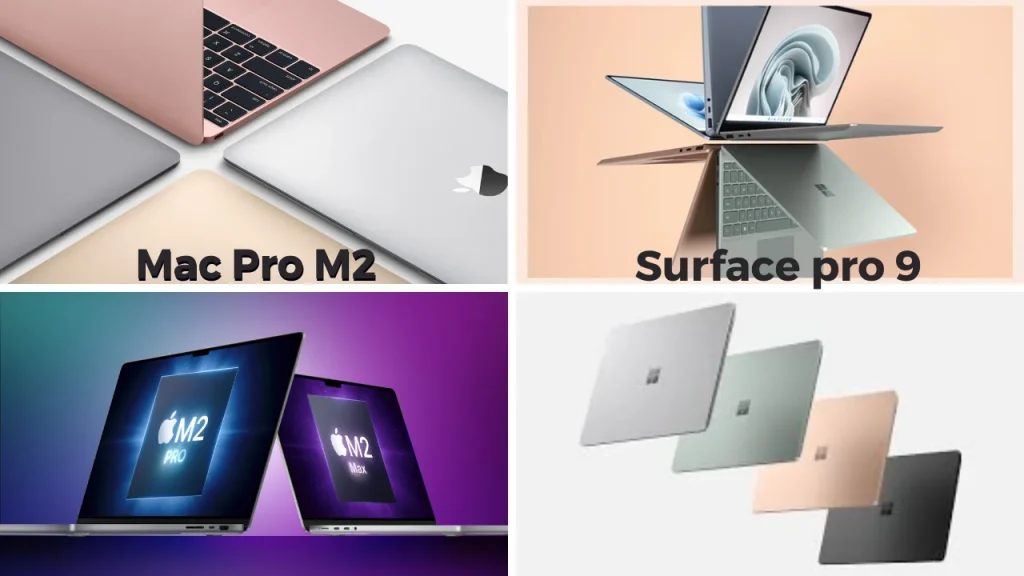 Display Features
Microsoft Surface Pro 9
Screen: 13-inches PixelSense™ Flow Display
Resolution: 2880 X 1920 (267 PPI)
Color profile: sRGB and Vivid Refresh rate up to 120Hz (Dynamic refresh rate supported)
Aspect ratio: 3:2
Contrast ratio 1200:1
Auto Color Management Supported
Touch: 10- Point mUlti-touc
Dolby Vision IQ™ support19
Gorilla® Glass 5
Brightness: 450 nits maximum (typical), 2 nits minimum
Mackbook M2 Pro
13.6-inch (diagonal) LED-backlit display with IPS technology;1 2560-by-1664 native resolution at 224 pixels per inch with support for 1 billion colors
500 nits brightness
Liquid Retina Display
Wide color (P3)
True Tone Technology
On the other hand, We all know Macbook is adored by Apple users widely in the world. Due to its shape, sharpness and backlit Apple's logo catches attraction. MacBook Pro M2, the latest and most awaited model of Apple's released on June 22. It has dimensions of 11.97 x 8.46 x 0.44 inches( 304.1 x 215 x 11.3 mm) and weighs 2.73 Pounds or 1.24 KG.
Macbook M2 models came in 4 colors Silver, Midnight, Starlight, and space grey respectively.
Surface Pro Vs MacBook Pro: Features and Performance
As far as the Surface Pro is concerned, it gives extraordinary performance to users and Windows users like this Surface Pro series but recently Surface Pro encountered a screen flickering issue and many users complained about this on the Microsoft community. However, you can try several solutions to stop the screen. Apart from that Surface Pro 9 offers great features as mentioned below.
1. Full laptop power and the versatility of a tablet with a choice of quad-core Intel® Evo™ or Microsoft SQ® 3 with 5G. 

2. Stunning, virtually edge-to-edge 13" PixelSense™ touchscreen designed for pen and Windows 11. 
 
3. Sign, sketch, or navigate with the optional Surface Slim Pen 2, securely stored and charging wirelessly in the Surface Pro Signature Keyboard. 

4. Surface Pro 9 with Intel® Evo™ 12th Gen processor and Thunderbolt™ 4 ports, delivers blazing fast performance. 

5. Optional 5G connectivity and enhanced video calling experiences available on Surface Pro 9 with Microsoft SQ® 3.
What could be better than Macbook for IOS lovers? And if you talk about performance surface pro competes but can't beat Macbook M2 in performance. M2 has a lot of features and the pros even professionals always use Macbook in spite of, any other laptops some of the main features we have listed below
1. Videographers enjoy working on MacBooks as it gives faster video editing results.

2. Professional Photographers suggest MacBook because it gives faster image filters and effects.
 
3. Gaming lovers who want high-quality graphics recommend MacBook but Surface Pro gives a 120Hz display while MacBook doesn't.

4. Faster scene edit detection. 

5. Faster photo stitching.
 
6. High-Speed video transcode. 

7. Rapid image upscaling performance.
Surface Pro Vs MacBook Pro: Battery Life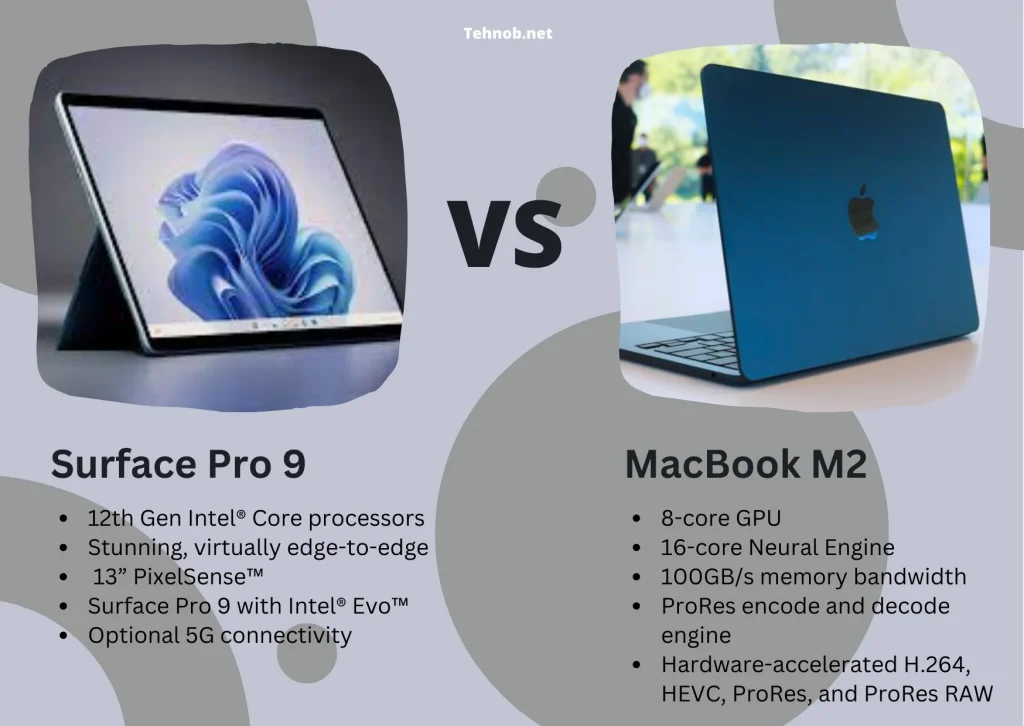 Surface Pro 9 gives up to 15.5 hours while Surface Pro 9 (5g) gives 19+ hours of battery timing as per Microsoft's ratings and customer reviews. The battery is tested by playing video games, movies, and web browsing.
Microsoft used a 47.7-watt lithium-polymer battery in all surface series. In Surface Pro 7, 8 battery only gives 14 hours of uptime. On web browsing or if you are playing video games.
But when I tested the battery of Microsoft Surface Pro by opening video editing and Graphics software for rendering and different web browsing for scrolling, it lasted only for 10 hours.
However, In Macbook M2 Pro 52.6 watt Lithium-polymer battery Apple claims can last for 18  hours which is the highest in the market. They further said it can last for 20 hours if you are playing videos. With the Fast-Charge power adapter of  67W, it charges quickly and offers the best performance.
While using Macbook M2 Pro intensively it lasted merely for 11-12 hours. I played several high graphics games and web surfing. 
After doing a lot of tests we came up with the conclusion that the Macbook M2 Pro battery gives the best performance the Surface Pro 9. So we can give our remarks as, 8 out of 10 for Macbook and 7 out of 10 for Surface Pro 9.
Surface Pro Vs MacBook Pro: Which One Is the Best to Buy?
Well, Buying Microsoft Surface Pro 9 or Macbook M2 Pro are both good depending on the needs of the customers or as per the usage purpose as Microsoft Surface Pro offers portable laptops which can be turned into tablets and are very easy to draw on.
On the other hand, Macbook M2 Pro offers the best performance without any lag. You can do your creative work on it. 14-inch and 16-inches Macbook offers a long keyboard and widescreen making sure it gives a classical look to the users.
These two machines may live up to their brands by offering many features for professionals, but they are suited to different purposes.
FAQS
My Final Thoughts
After doing a comparison of both laptops. Technob came up with the conclusion that Macbook Pro M2 is the best laptop. Surface Pro 9 is loved by Windows users but we have encountered some flaws in that. Maybe in the near future, Microsoft shall be resolving them and giving their best in the market to compete with Macbook. If you have used both laptops please share your honorable feedback in the comment section or contact us directly so we may discuss it further.
Emily Doe is an American extra-ordinary girl who loves to research and come up with the technology which is evolving around the world.
She has the ability to capture new trending technologies and write about them. She is presently a Tech writer at Technob.net